FREE Virtual Conference - Schedule & Registration
ABOUT THE CONFERENCE
Dr. Sam Pavel, President:
This is not the way I wanted to announce our annual conference and meeting of the membership. I remember sitting in the situation room in the lower levels of the Memphis Hilton the Saturday morning after last year's gathering with Dawn, Laura, and G. We had just finished one of the largest and well-attended conferences in UAA history. As we sat there, exhausted – munching on leftover snack packets, I commented 'just wait until next year.'
2020 was going to be my swan song; The culmination of two years of hard work. The conference in St Petersburg, FL was shaping up to be spectacular. Then March came. Writing the press release announcing the cancelation of the conference was one of the most difficult things I have ever done. To quote Klingon commander Kor "It would have been glorious." But also quoting Ms. Brummet, my undergraduate Musical Theater professor, "The show must go on."
Through some excellent foresight by Dawn and quick action by the Executive Committee the UAA will come through this pandemic with minimal financial damage. Instead of giving up we moved forward. We purchase a subscription for a virtual meeting platform and began planning. Instead of a three-day conference in sunny St Petersburg FL, we will gather virtually every Friday sharing our research, best practices, and stories. The show is going on thanks to the vision and tenacity of the UAA membership, of which I'm proud to serve. So let me say again...
Welcome to the 73rd Annual UAA Conference!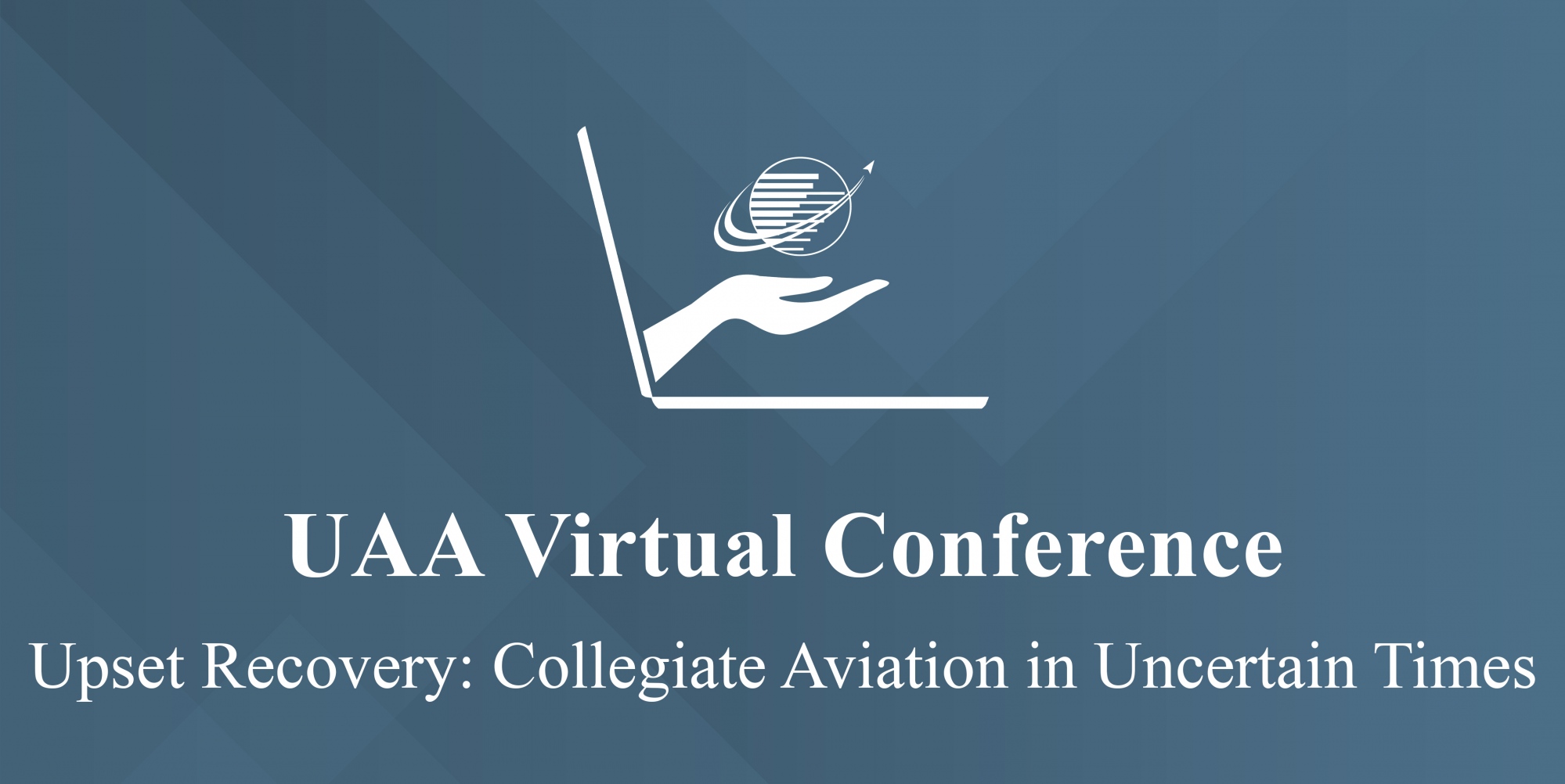 Click the links to register for the event.

All times are in CENTRAL
Friday, September 18
10:00am - 12:00pm • Professional Papers
1:00pm - 1:30pm • Education Session • Daniel Adjekum, Marcos Fernandez | Assessing Cultural Drivers of Safety Resilience in a Collegiate Aviation Program
1:30pm - 2:00pm • Education Session • Seth Young | Assessing the State of Airport-Oriented Academic Programming
2:00pm - 2:30pm • Education Session • Richard Hellings, Tracy Yother | Aviation Maintenance Programs Go Online Overnight: What Worked and What Did Not

Thursday, September 24
10:00am - 11:30am • Knowledge Share (Innovation Theatre)

Friday, September 25
10:00am - 12:00pm • Research Roundtable • Dr. Sam Pavel (Moderator), Linfeng Jin, Chuyang Yang, Chien-tsung Lu, Andreas Wesemann, Misra Shlok, Tyler Spence, Carolina Anderson, Marisa Agular, Brooke Wheeler, Andrea Risso, Travis Albrecht, Flavio Mendonca, Julius Keller, Rian Mehta, Stephen Rice, Rayyan Issa Almamari, Jacob Shila, Michael McCormick, George King, James Simmons
Friday, October 2
10:00am - 10:30am • Education Session • Ed Steigerwald | Creating Interactive Course Designs
10:30am - 11:00am • Education Session • Robert Fowler, Jena Lynch, Jennifer Roberts | English Language Proficiency and Flight Training Performance
11:00am - 11:30am • Education Session • Julius Keller, Flavio Mendonca, Mike Robertson, Matthew Romero | Exploring Fatigue Research Among Collegiate Aviation Pilots
1:00pm - 1:30pm • Education Session • James Simmons | From Feast to Famine: Critical Topics and Resources for Aviation Management Courses in Light of COVID-19
1:30pm - 2:00pm • Education Session • Tyler Spence | Local Government Policy and Planning Considerations for sUAS
2:00pm - 2:30pm • Education Session • Dr. Stephen Cusick | The FAA Center of Excellence for General Aviation - Annual Report of Research Projects
Thursday, October 8
10:00am - 11:30am • Knowledge Share (Innovation Theatre)
Friday, October 9
10:00am - 10:30am • Best Practices • Tim Bliss, Chad Depperschmidt | Considerations in Planning and Implementing a Study Abroad Experience for Collegiate Aviation and Aerospace Students
10:30am - 11:00am • Best Practices • Brooke Wheeler | Engaging Research: Flipped Classrooms, Projects, and Public Presentations to Understand Aviation
11:00am - 11:30am • Best Practices • Tyler Bachelder, James Simmons, Derren Duburguet | Maintaining Access to Course Content for Diverse Student Populations
11:30am - 12:00pm • Best Practices • Cody Christensen | Onboarding Non-Aviation Supervisors: Lessons Learned
12:00pm - 2:00pm • Administration Leadership Forum
Friday, October 16
10:00am - 12:00pm • Workshop • Mary Johnson, John Mott, Dr. Ian Johnson | Applied Research in Weather Technologies in GA Cockpit
1:00pm - 2:30pm • Workshop • Lori Brown | Creating and Assessing Augmented Reality and 3D Learning Objectives in Aviation Education
Tuesday, October 20
10:00am - 12:00pm • Safety Info Share • UAA Safety Committee | Navigating SMS Voluntary Program (SMSVP) and SMS with IS-BAO
Thursday, October 22
10:00am - 11:30am • Knowledge Share (Innovation Theatre) • FAA - Reporting Requirements Associated with Alcohol-related Motor Vehicle Incidents/Actions, FRASCA - Technology and Connectivity's Role in Enhancing the Simulation Training Experience, Flight Schedule Pro - Learn How to track KPI's Like a Pro

Friday, October 30
12:00pm • Annual Membership Meeting
1:30pm • Annual Awards Ceremony